I'm Game if You Are!! Inspiring outdoorsmen on how to better prepare and enjoy your wild game.
Soon you will be able to see New England's Wild Chef featured on the Outdoor Channel.Through and exclusive Partnership with Wolf Creek Productions; producer of 6 successful shows, Wolf Creek will feature 26 two minute segments called Cooking with the Wild Chef which will air on Steve Gruber's shows currently seen on the Outdoor Channel.
Segments will feature highlighted techniques and recipes on fish and game and break the traditional mundane quality that has been previously associated with wild game cooking that has been aired on many outdoor sportsmen's channels. Denny will bring an "Emeril-like" atmosphere (one that has been much needed) to the outdoor industry and help game enthusiasts get excited about how they cook their game; showing them the versatility uniqueness of what they can do with their harvest.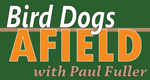 Bird Dogs Afield presents a complete program on all facets of bird dog training, proper care of the bird dog, shooting skills for the upland hunter and, of course, wild bird hunting. Host Paul Fuller is an avid pointing dog enthusiast and upland bird hunter. With his partner and companion, Dillon, a German Shorthair Pointer, Paul demonstrates techniques and shares his knowledge of the sport. Since Bird Dogs Afield is being launched in the spring, early episodes will deal primarily with training techniques and caring for the bird dog. Several wild bird hunting episodes will be filmed and presented this fall.Simply go to the list of programs in the upper right hand corner and scroll down to Bird Dogs Afield.