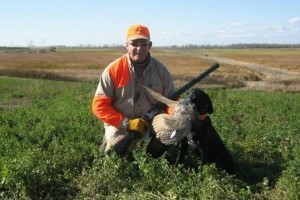 Many thanks to Dave Trahan for his help in bringing both Gracie and handler up to speed on bird hunting. Gracie is my first hunting dog (actually first dog period) and without Dave's training, and help overall, we would not be where we are today. Gracie achieved a 112 on the NAVHDA NA in September 2007. Now, at an age of 15 months (Nov 07), she has collected a nice bag of Grouse, Pheasant and Woodcock during her first hunting season. Either you are a novice or experienced, or whatever stage your dog is at in its training, I am sure you'll find that Dave can help in getting the game to the next level. 2008 NAVHDA UT PRIZE 2,UT 1 VC 2014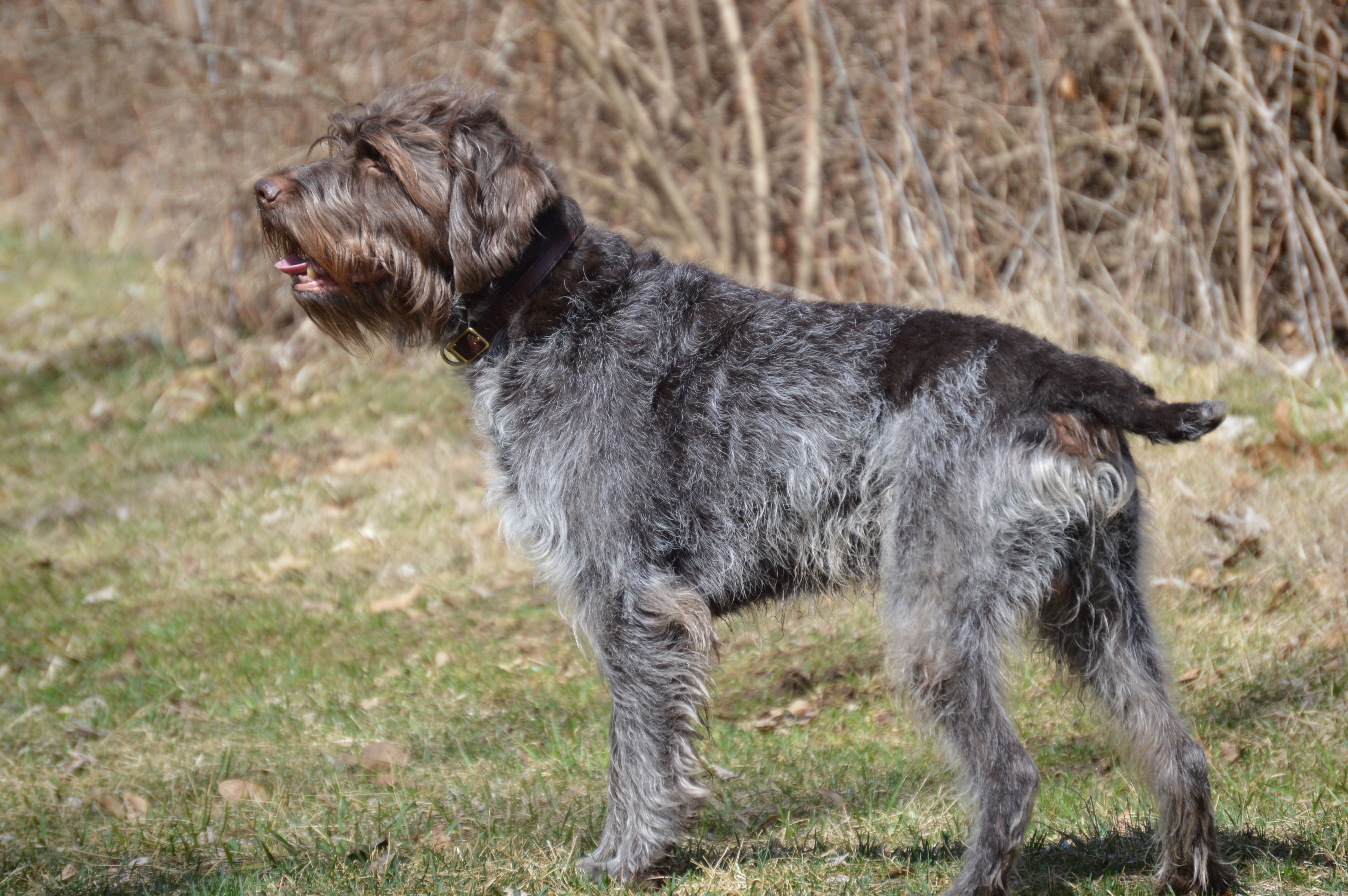 "When i first got Riley (Wirehair Pointing Griffon) I didn't know much about hunting dogs, and even less about how to train him. Riley's energy has to be a handful at times, but Dave has taught me how to channel his enthusiasm to become a very useful and dependable hunting dog. Success in NAVHDA and AKC Obedience test also hunting in New England and North Dakota has been the results of Dave's effective training.
Sheila Bennett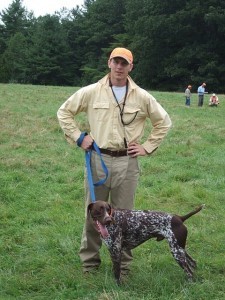 Jared with Hogan Derby Prize1, Solms Prize2, FW Young Adult SG1 NAVHDA NA Prize1 UT Prize2 I first visited Dave when my dog was 3 months old and he gave me some brief training tips and told me to come back when Hogan was 6 months. We trained with Dave from 6 months until 18 months and Hogan successfully passed the DK and NAVHDA testing systems through the Solms and Utility level. Hogan is the first dog I have ever trained and Dave has made the experience fun and rewarding. Dave brings a high level of passion to his training and is an excellent resource for anyone who is looking to improve their dog's hunting ability and obedience.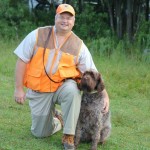 Paul with Tess After a long hiatus I wanted to get back into bird hunting. After doing some research, I bought a dog and chose to work with Dave Trahan because of his passion for bird dogs and reputation for producing well trained, obedient and versatile hunting companions. While working with Dave, he introduced me to NAVHDA as a way to further our training. In just a short time, Tess received an NA Prize I, and so our journey began. Working with Dave has been an education and a fun and rewarding experience. Working together to train my dog, Dave also taught me proper training and handling techniques. As a result of 2 years of training with Dave, and testing in the NAVHDA, AKC and CKC hunt test systems, Tess also received 2 UT Prize 1's; AKC Senior, Master, and Master Hunter Advanced titles; became a CKC FDXCH; received AWPGA's 2012 Field Dog of the Year award and went on to become a NAVHDA VC. But most importantly, she is just such a pleasure to hunt with. Whether you are a novice or experienced handler; looking to prepare your dog for hunt competitions; train your dog to become an obedient, versatile hunting companion or just to "tune up" your bird dog for hunting season, I recommend working with Dave.
Photo courtesy of Claudette Blackburn.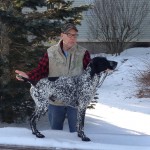 I got my first dog from David and Carol, Falcon On Point, call name Oli. David has done a terrific job helping train Oli, through me. As a first time dog owner, I wanted a superb hunting dog together with the close bond that develops between dog and handler. David has been a great teacher and mentor to me. He has had the patience to train me to train my dog, a much harder task than training the dog directly. As a result, Oli has tested very well in the German system (North American Deutsch Kurzharr Club) and North American Versatile Hunting Dog Association . The training program for these tests, organized and arranged by David and executed by myself with David's help, is both reasonably priced and highly rewarding. The end result is a terrific hunting dog that is also an obedient and loving family companion.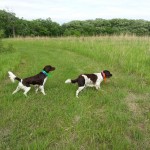 VC Seeker and UT2 Nara VC Seeker "PASSED" are words that never in my wildest imagination would ever hear. All the credit goes to Dave Trahan of On Point Kennel. Six years ago, I decided, I wanted a well train hunting dog. Luckily I found a dog trainer that lived only a couple of towns away. Dave's sequential training program prepares us, (dog and handler) to participate in the NAVHDA and NAKDC testing. These programs and Dave's experience as a dog trainer allows you to get the most out of your dog's versatility. He also has a network of other professional trainers available to consult with if problems occur. Dave not only trains the dog but also trains you how to be a successful handler. This probably is Dave's greatest challenge, in my case it was. The most rewarding part of Dave's training program, no matter whether you are training for NA or VC is the partnership that you establish with your dog. A well trained dog is a delight no matter whether you are out for a walk or in the field hunting.
Thank you Dave Terry's Long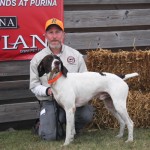 When I got our second GSP, I decided I wanted to train him to hunt, and being a novice myself, needed some guidance. Our breeder introduced us to NAVHDA, and through NAVHDA, found Dave. With Dave's guidance, I now have an awesome hunting dog, as well as overall companion. We've had great success in the NAVHDA testing system, as well as in the field hunting. Dave not only trains the dog, but also trains the handler, which is not an easy task. Whether you want to train for the various hunt tests, just fine-tune for hunting, or even overall obedience, Dave will work with you and develop a training program for you. Through his years of experience, he knows what works, and what doesn't. I highly recommend Dave and On Point Kennel for your training needs.
Photo courtesy of Nancy Anisfield
I have trained with David Trahan for 4 years now with my German Shorthair, Kaiser. Kaiser is one of those big headstrong dogs and for him to have been my first hunting dog, I really needed Dave's help. Dave has helped me learn to be a better handler and build a strong bond between my dog and myself. During these past 4 years Dave never gave up on my dog or me. When Kaiser wouldn't swim as a pup Dave brought us to a pool for dogs during the winter for extra water time. Kaiser received a Prize One for his Natural Ability test in the NAVHDA system. The following winter while training for the Utility Test Dave helped me with house obedience so that Kaiser would understand that I was the boss, not him. This past fall Kaiser received a Prize One in the NAVHDA Utility Test and we will be training for the NAVHDA Invitational this summer with Dave. Thanks to Dave for all of his support. Joanna K.